Dell Laptop Battery Repair Service
The battery is one of the essential components of a laptop device, or for that matter, any electronic device. If the battery isn't working correctly and cannot get adequately charged, and the charging is not being retained, it can affect the device's proper functioning. Without a battery in the laptop, it will not work or even turn on. We offer laptop battery and adapter replacement services to our customers to ensure that they do not struggle with their device's battery issues.
Best Dell Laptop Battery Repair center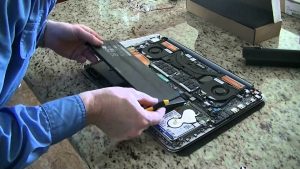 We offer these Repair services for laptops of various companies that are used by people. From Dell laptop battery to Gigabyte laptop battery replacement, we provide our services for all the other laptops. There are times when the only issue faced in a laptop device is related to the battery. It does not require any severe repairs or replacements. Only the battery needs to be replaced or repaired. If the laptop battery is not holding the charging, is getting discharged without even being used for that much time, there is no point in getting it repaired. The batteries must be changed in such cases.
Our whole repair process is straightforward and easy. We do not charge anything if we do not fix your computer and always keep our customers informed politely in advance if any parts need replacement or any service charge.