Laptop Mac Liquid Spill
Laptop Mac Liquid Spill Repair Hyderabad
The fast, reliable and affordable
Apple Mac Liquid Damage Repair Service in Secunderabad Hyderabad:
Call now: 9573667615
Laptop Mac Liquid Spill Repair Hyderabad: Suffered a spill? Water, wine, beer, alcohol, tea, coffee, juice, milk – it's a heart-breaking occurrence and can work out very costly if you don't find a specialist who know exactly what they're doing.
Laptop Service Center  are Hyderabad's pioneers in the repair of accidentally damaged MacBook / laptops
We're Hyderabad's experts in Liquid Damage Repairs for the MacBook range of Apple laptops and can help by offering a 100% free evaluation and in any worst case scenario we specialise in low cost data recovery. Get in touch to arrange dropping your beloved MacBook, MacBook Air or Macbook Pro off with us and we will determine the fault, discuss the available solutions with you then offer an accurate quote and turnaround time.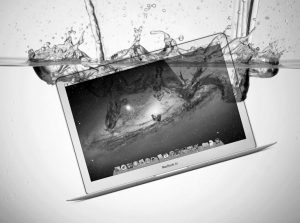 Liquid has accidentally spilled over your MacBook – What now?
Laptop Service Center, Hyderabad's accident damage repair experts, recommend the following:
Immediately shut down the Mac, unplug the power adaptor switching off the mains socket first.
Disconnect the MagSafe power cable and any connected peripherals.
Remove the Mac's battery if it's an older laptop
Place 2-3 paper towels on the keyboard, close the lid and lay it upside down with the underside facing up.
Store the Mac in a warm and dry environment such as an airing cupboard.
Note the amount and type of liquid spilled on your Mac and if possible the location of the spill – keyboard, trackpad, under casing, display lid, etc.
Immediately contact us for a free inspection and diagnosis – all at no cost, whatsoever – 100% FREE !